Clan group: Kuku Midigi
Language group: KuKu Yalanji
Arone (Raymond) Meeks (1957-2021) was born in Sydney and moved to Cairns, Queensland, in the late 1990s. During his lifetime Arone had a profound influence on Indigenous art in Australia.
Arone worked in a range of media including painting, sculpture and printmaking. He was one of the ten founding artists of the Boomalli Aboriginal Artists Co-operative which was established in 1987. He is also well known for his illustrations for numerous children's books about life in the Australian bush. Arone's work has been described as deeply intuitive and based on a quest for defining shifting interpretations of cultural identity. He described this process as 'hunting for lost pieces of myself.'
Arone had an extensive exhibition career, and his work is represented in major Australian and international public galleries, and in many private collections in Japan, France, USA, Argentina and Australia.
His work is represented by Onespace Gallery, Brisbane.
Drawn to Water
6 Dec 2019 – 19 Feb 2020

View exhibition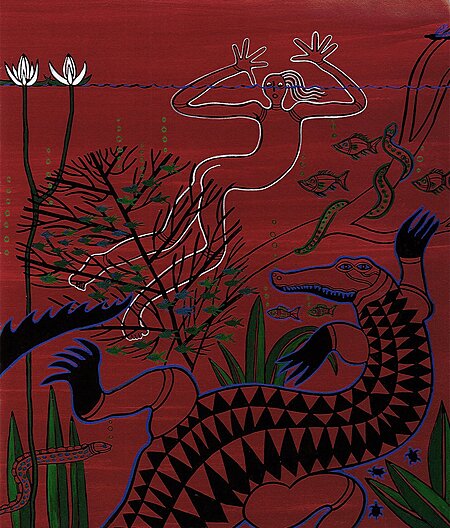 Arone Meeks, Long ago from the Sisi and the cassowary portfolio, 2018, gouache, Donated through the Australian Government's Cultural Gifts Program by Arone Meeks, 2018
Arone Meeks, Sisi walked along the banks from the Sisi and the cassowary portfolio, 2018, gouache, Donated through the Australian Government's Cultural Gifts Program by Arone Meeks, 2018
Arone Meeks, What would my mothers do from the Sisi and the cassowary portfolio, 2018, gouache, Donated through the Australian Government's Cultural Gifts Program by Arone Meeks, 2018
ARTNOW FNQ 2019
13 Dec 2019 – 2 Feb 2020

View exhibition

Arone Meeks, Thylicine, Quinkan and Black Cat 2019, mixed media and acrylic on canvas, Collection of the artist
ARTNOW FNQ 2017
1 Dec 2017 – 18 Feb 2018

View exhibition
Arone Meeks, Gender Spirit 2017, etching, watercolour, Courtesy of the artist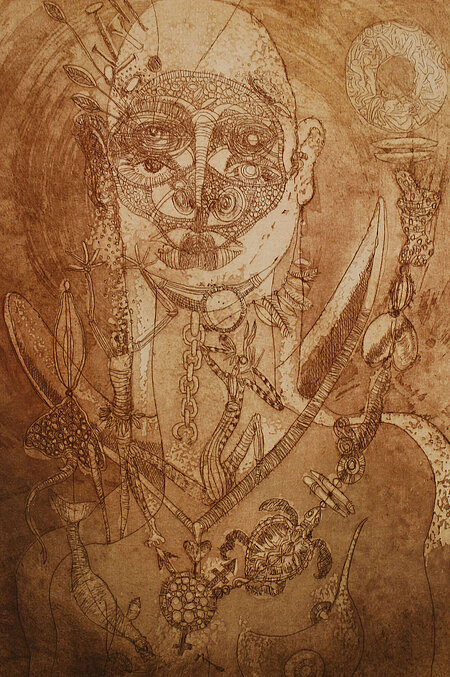 Arone Meeks, Unbrroken Portrait II 2017, etching, watercolour, Courtesy of the artist
Arone Meeks, Unbrroken Portrait III 2017, etching, watercolour, Courtesy of the artist
Arone Meeks, ARTNOW 2017 install, Cairns Art Gallery 2017

ARTNOW FNQ 2015
27 Nov 2015 – 17 Feb 2016

View exhibition