Artist Showcase | Catherine (Kate) Hunter
Catherine (Kate) Hunter was born in in 1963 in Coffs Harbour, NSW. She now lives and works in Cairns, Queensland.
Kate is a contemporary jewellery and object maker who works in metals using traditional smithing techniques. She also works across a range of other media including clay, paint, textiles, upcycled plastics, wood and e-waste. She is fascinated by the beauty and wonder of nature and her works explore the impact that consumerism and environmental vandalism have on the natural world.
Kate's studio is located on the edge of a mangrove estuary in Cairns, and the contemporary jewellery she creates celebrates the detail and dynamics of the natural world and the struggles and triumphs that abound within it.
Kate has been represented in numerous local exhibitions and her work is represented in the Collection of the Cairns Art Gallery and is available for sale through the Gallery Shop. 
Explore
Artist Showcase
Shop 
Solo Exhibition | Highlighted Works
Catherine Hunter: All That Remains
15 Oct – 13 Nov 2016

View exhibition
Catherine Hunter: All That Remains installation, Cairns Art Gallery 2016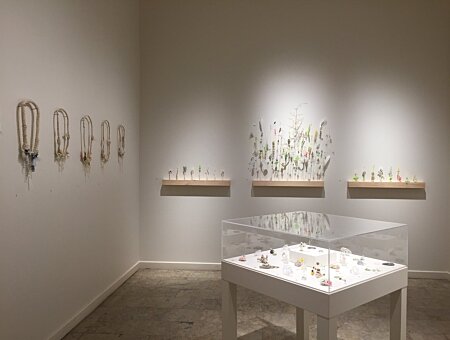 Catherine Hunter: All That Remains installation, Cairns Art Gallery 2016
Catherine Hunter: All That Remains installation, Cairns Art Gallery 2016
Group Exhibition | Highlighted Works
FNQ Contemporaries 2021
5 Feb – 13 Mar 2021

View exhibition
FNQ Contemporaries installation, Cairns Art Gallery 2021
FNQ Contemporaries installation, Cairns Art Gallery 2021