Artist Showcase | Roland Nancarrow
Roland Nancarrow was born in Warwick, Queensland, in 1949. He lives and works in Cairns and has an extensive career as a practising artist.
Roland is an established artist who works across different media, including sculpture and painting.  He has an enduring passion for the tropics and on a trip to South America he became fascinated with the tropical bird and plant life. On his return to Cairns, this interest continued, and he began to study local birds, their migratory patterns, family relationships and breeding habits. These feature in his works which comment on global warming and the impact it will have on the life of birds on our planet. 
Roland has been represented in solo and group exhibitions, and he has completed more than 20 public art projects and installations. His work is held in public and private art collections across Australia.
Explore
Artist Showcase
Shop 
Solo Exhibition | Highlighted works
Roland Nancarrow: Bird Encounters
12 Nov 2022 – 15 Jan 2023

View exhibition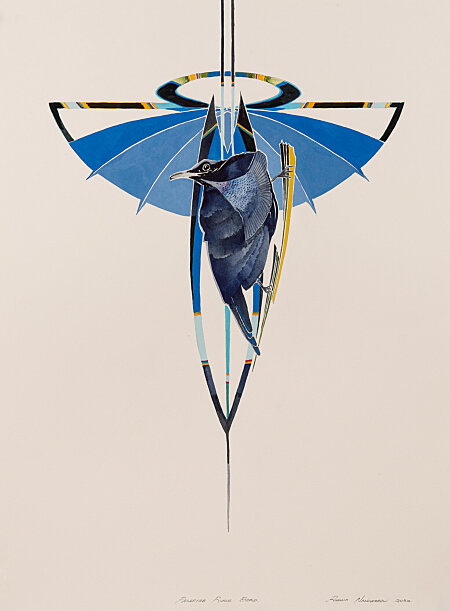 Roland Nancarrow, Paradise Rifle Bird 2022, watercolour and gouache on paper, 76.0 x 56.0 cm. Courtesy of the artist
Roland Nancarrow, Little Kingfisher 2022, watercolour and gouache on paper, 76.0 x 56.0 cm. Courtesy of the artist
Roland Nancarrow, Welcome Swallow 2022, watercolour and gouache on paper, 76.0 x 56.0 cm. Courtesy of the artist
Roland Nancarrow, Red Headed Honeyeater 2022, synthetic polymer paint on polyvinyl chloride and wood
Roland Nancarrow, Blue Bird 1 2022, synthetic polymer paint on polyvinyl chloride and wood
Group Exhibitions | Highlighted Works

View exhibition
Roland Nancarrow, In the Beginning - Sunrise Birds, 2020, acrylic on PVC and wood, Collection of the artist
ARTNOW FNQ 2019
13 Dec 2019 – 2 Feb 2020

View exhibition

Roland Nancarrow, No Borders for Migratory Birds, 2019, synthetic polymer paint on polyvinyl chloride and wood, Purchased Cairns Art Gallery Foundation, 2020
Collection Works